About us
At Turkish Pide and Kebabs in Lyneham, we've got exciting Turkish dishes including kebabs, entrees and dips. We offer Turkish Spring Rolls, Zucchini Puffs and delicious Potato Balls stuffed with fresh herbs and Fetta, then deep fried. Other excellent specialties at Turkish Pide and Kebabs include our popular Mixed Meat. You will find our Grill Menu offers Sliced Lamb, Chicken Kebab, Pirzola and Meat Balls and our Traditional Turkish Kebab Rolls are available in chicken, falafel, mixed meat, zucchini and mixed varieties. For a wonderful meal, add one of our flavourful dips.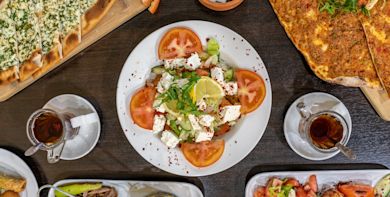 Reviews
Patrick
"Great delivery, as always. Great food, as always. I am happy, as always."
13/12/2019
Connor
"Outstanding"
14/11/2019
Wendy
"Really yummy and very generous"
12/11/2019
Marea
"Food was totally delicious. Generous serves - lunch sorted for the next day as well. Really friendly staff. Thanks team."
6/11/2019